Industry news
LiFi Technology at CES 2020 with CEA-Leti and SLD
Transmitting data with light is not a new idea but it is getting more materialized with improving technologies. At the coming CES 2020, SLD Laser and CEA-Leti are presenting their development in LiFi applications.
SLD Laser, a visible laser light sources expert, has announced high-resolution sensing and ultra-high speed LiFi communication technologies for automotive and consumer applications. The company will demonstrate these innovations at CES 2020.
SLD has developed LaserLight LiFi communication technology that delivers high-speed data rates of over 20 Gigabit per second, which is twenty times faster than 5G data transfer. The white light sources can be collimated for long range mobility applications or configured for floodlight broadcast to address large areas. The sources deliver a unique combination of ultra-high data rate and long-range broadcast to address the intense data transfer needs of emerging mobility applications such as smart cars & smart cities, and 10G fixed installations for offices, homes, and factories. SLD's LiFi leverages the unconstrained visible light spectrum to overcome challenges of RF and Wi-Fi, and while delivering data securely compared with incumbent technology.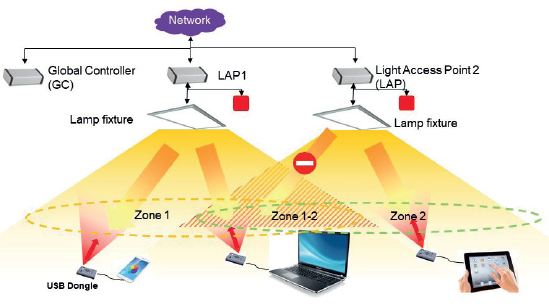 (Image: CEA-Leti)
At the same time, CEA-Leti from France is also demonstrating its LiFi system at CES 2020. The company said that its LiFi-multicell system is the first-ever smart interference orchestrator that automatically detects interference between lighting zones in networks and optimizes data transmission rates for each nearby device. The system also manages—asymmetrically and independently—uplink/downlink interference. The LiFi-multicell system is able to provide data-transmission rates up to 150 Mb/s over distances up to three meters by LED.
Categories
Contact Us
Contact: Shenzhen Laimitech Opto-electronics .,Ltd
Phone:
Tel: 0755-23229394
Whatsapp:
E-mail: sales@lamiled.com
Add: #5 floor , Building C, Fu Tai Industrial Aera, Liaokeng Village, Shiyan Town,Shenzhen City 518100