News
Information on LED Lighting Products
The LED Light Bulb saves 90% energy, LED lights last longer up to 60,000 hours, LEDs are cool to touch, LED Bulbs are unbreakable, and LED Lighting saves time, money and the environment.
Using a 3 Watt LED Light versus a 60 light bulb will save you $405.01 Per LED Bulb at 11¢ per kWh/60000hrs. Most of the LED Lights sold by LEDLight.com are CE and/or UL listed.
If every U.S. household replaced just one standard 60 watt bulb with a LED Light bulb it could save 24,184.4 mega (million) watts per day.
LED Lighting Life Span and Energy Usage Beneficiaries Vs. Incandescent Lights

LED Light

(1.3 Watt Light Bulb)
1.3 Watt LED Light

Incandescent Lights

Life Span

How long will the light bulb last?

Greater Than 60,000 Hours

1,000 Hours

Number of Bulbs Used over a 60,000 Hour Time Period

1 LED Light Bulb

60 Light Bulbs

Bulb Cost

$14.99

$40.20

(60 Bulbs At 67¢ Each)

Electricity Usage

Over a 60,000 Hour Time Period

78,000 kWh

36,000,000 kWh

Cost of Electricity

$20.40

$612.00

Total Cost

After 60,000 Hours

$35.39

$652.20

Total Savings

Residential incandescent light bulb cost vs. LED Light cost

$616.81

Total Savings

Commercial incandescent light bulb cost vs. LED Light cost

Labor Costs $65 per hour, Boom lift $350 per day, Operator Pay, etc.

$415,405.01
Frequently Asked Questions
Q: What are LEDs?
A: LEDs are Light-Emitting Diodes.
Q: Do LED lights screw into standard household light sockets?
A: Yes, LED lights are direct screw in replacements for household lights. You unscrew your incandescent light bulb and screw in your LED Light bulb. You do not need to redo your electrical system to use the LED lights.
Q: Are automotive LED lights direct replacements for automotive bulbs?
A: Yes, the LED automotive lights directly replace the automotive bulbs you already have. You remove your incandescent light bulb and insert your automotive LED light bulb. You do not need to redo your electrical system to use the LED lights. The LED Bulbs are specifically designed to replace that incandescent light bulbs used in your automobile, motorcycle or RV.
Q: What is the difference between white, cool white and warm white?
A: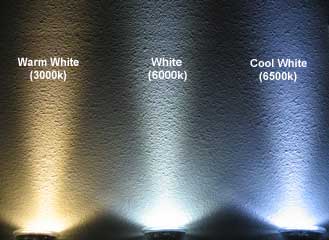 Q: Do LED lights generate heat?
A: LED lights generate very little heat. They are ideal for kitchens, dens, offices, or anywhere you are working in close proximity to a standard light bulb. That is why LED Lights are so energy efficient.
Q: Do LED Lights work with dimmer switches?
A: No, some LED lights will work with dimmer switches. However, lights that run on 120V AC are not dimmable. They do not have a heat sink design that takes the heat from the LED Light. The dimmer switches waste so much energy that the LED Bulb will glow or flicker when they are turned off, if the LED bulb is alone. There won't be a flicker if you have LED lights in a series though. Dimmer switches leak because of the TRIAC which is why so much energy is wasted.
Q: What do load equalizers do to the LED lights?
A: The load equalizers keep the flashers from flashing too fast or flickering.
Q: Can LED lights be used in the outdoor weather such as rain, snow, cold, heat?
A: Yes, the LED lights can be used outside all season. The LED light bulbs are CE and/or UL listed for indoor and outdoor use.
Q: Do the LED tube lights turn on immediately compared to fluorescent tube lights that have a wait time to turn on?
A: Yes, the LED tube lights have instant turn on and there is no wait compared to the fluorescent lights that take time to light up.
Q: What is a single circuit LED light?
A: A single circuit has one brightness level and is commonly used for turn signals or lights that go on and off.
Q: What is a dual circuit LED light?
A: It's an LED light that will operate in both a dim and bright light mode creating two contrast levels. The dual circuit LED lights are used for tail lights and brake lights.
Q: Should you match the LED light to the lens color you have?
A: Yes, your LED light should be the same color as the lens you use.
Q: Does the automotive lens reduce the LED Bulb light output?
A: Yes, the lens can reduce the LED light emitted from the LED Bulb.
Q: What is the difference between indexed and non-indexed?
A: Indexed means that the base has offset bayonets, non-indexed means the bayonets are the same.
Q: Do the reflectors affect the light from the LED bulb?
A: Yes, they can affect the light emitted if they are side firing LEDs. So please choose the best LED light for your vehicle.
Comparison LED with Conventional Lights

LED T8 Tube Light VS. 40W Fluorescent Tube Light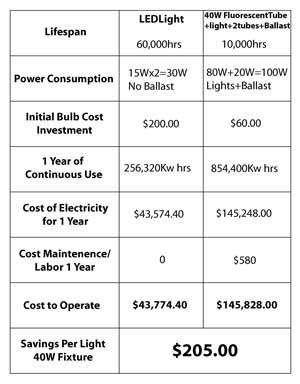 Color Spectrum of LEDlights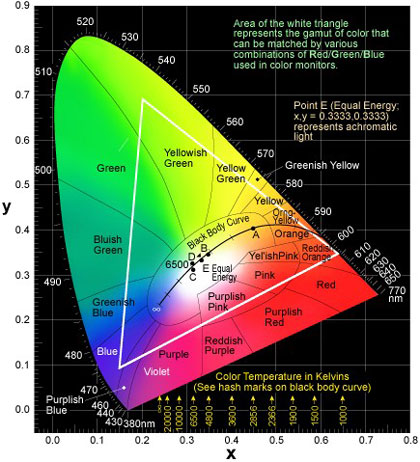 Different LED Light Whites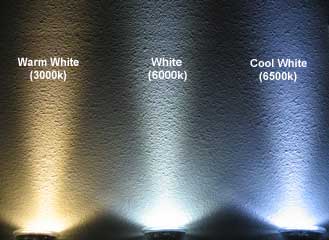 Different LED Light Colors
The 7 Shades of RGB

For more information on RGB lights please use the link to Wikipedia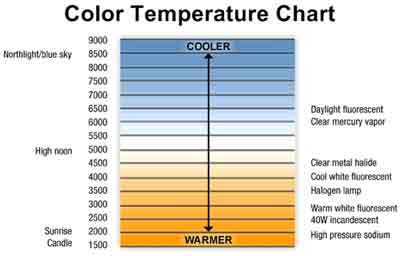 Color temperature description.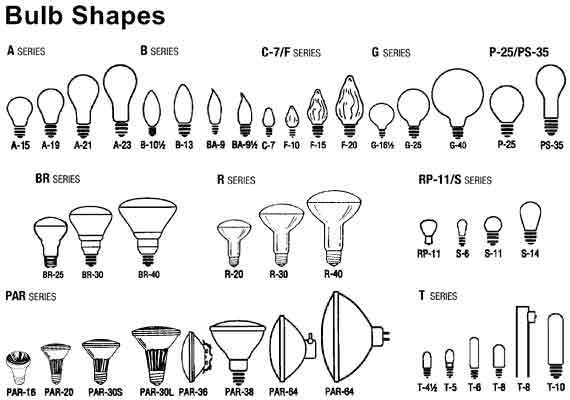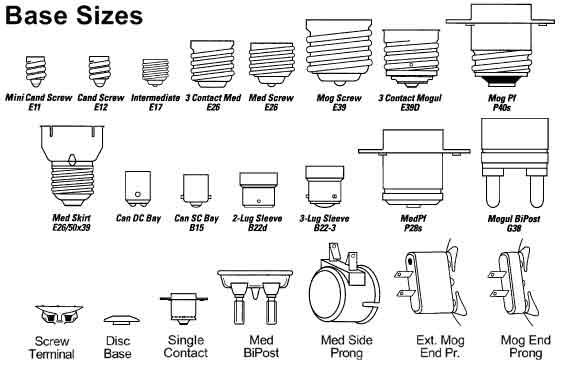 Automotive T25 Base Type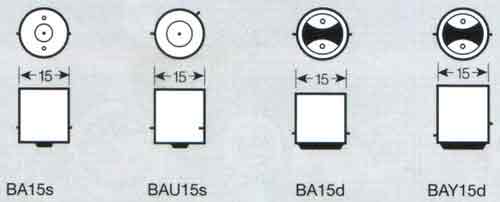 Automotive Light Bulb Cross-Reference

LED

Light Type

Base Type

Base Description

Number Circuits

Automotive Bulb Replacement Number

T5

Wedge

Single

17 18 37 70 73 79 85 86 2721

T10

Wedge

Single

T10 T-10 147 152 158 159 161 168 184 192 193 194 #194 259 280 285 447 464 555 558 585 655 656 657 1250 1251 1252 2450 2652 2921 2825 12256 12961 2521 2525 W5W

T10

Miniature Bayonet

Single

BA9S 53 57 182 257 363 430 615 756 1445 1155 1815 1819 18351895 1889 1891 1893 1895 6253 12814 12929 W6W 2-B 3886x

T15

Wedge

Single

T13 T-13 T15 T-15 516 579 901 904 906 908 909 912 914 915 916 917 918 920 921 #921 922 923 926 927 928 939

T20

Wedge

Single

W21W 21W W3X16D ECE

T20

Wedge

Dual

W21-5W 21W 5W W3X16Q ECE

T25

BA15S

Single

T25 T-25 1073 1093 1129 1141 1147 1159 1259 1295 1383 1459 1619 1651 1680 2056 3496 5007 5008 7008 7506 7806 7527 1156 1759 3497 1156-18W

T25

BAY15D

Dual

T25 T-25 1016 1034 1130 1152 1154 1157 1158 1493 2057 2357 2397 7528 3496

T25

Wedge

Single

T25 T-25 3156 3056 3456 4156 3155

T25

Wedge

Dual

T25 T-25 3057 3155 3157 3357 3457 4157

T25

BA15S

Single

61 63 67 #67 69 71 81 89 97 98 303 623 1003 1155 1247 1251 3497 5007 5008 12821 P21W

T25

BA15S

Single

67 89 97 1156 12821 P21W LOW

T25

BA15D

Single

90 1004 1076 1142

T25

BAU15S

Single

BMW 7507

10mm

3/8"

31mm-35mm

1 1/4"

Single

3021 3022 3175 6428 6430 30922 DE3425

10mm

3/8"

36mm-39mm

1 1/2"

Single

3423 3425 6411 46413 6418 6423 6451 6461 6475 6476 6418 6461

10mm
3/8"

40mm-44mm

1 3/4"

Single

560 569 578 211 212 212-2 2122 214-2 2142 6413 6429 DE3021 DE3022 DE3175 DE3425 DE4410 12844
Please use the following Vehicle database for LED Light replacements.
Cross-Reference your vehicle bulbs!
Household cross-reference
Tube Light 2 Foot (24") 600mm 60cm , 4 Foot (48") 1200mm 120cm, 5 Foot (60") 1500mm 150cm, 8 Foot (96") 2400mm 240cm
G4.5 Medium Bi pin T8 T12 F3004CW F40TW F17T8 F32T8 F96T12 F40/350BL F40/CWX/30/STRNGBX
FA8 Single pin Mono pinT8 T12 F48T12 F72T12 F42T12 F20T12-CWTLX-XL
Appliance E12 E27 S14
Standard E27 A19
MR16 EEE EKE EKE 50 W EKZ EXN PAR36-ML25HD2
Please download the LED Light Load equalizer installation instructions document.
Load Equalizer drawing/ Load Equalizer step-by-step picture
Please download the LED Light Protector installation instructions document.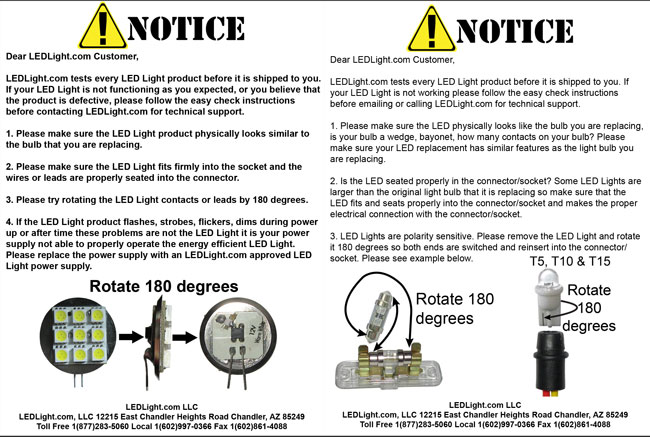 Q: Where can I find the forms for whole sale resale information?
A: Please use the following links to the forms.
Fax Mail Email Company Credit Application Form

Fax Mail Email Credit Card Order Form

Fax Mail Email Product Order From

Fax Mail Email Transaction Privilege Tax Exemption Certificate Form

Fax Mail Email W9 Tax ID Form

LED Light Information: LED stands for light-emitting diode.LED Lights generate very little heat, which means LED Lights are 90% energy efficient. LED Lights last greater than 60,000 hours. LED lighting last up to ten years or longer! The standard incandescent light bulb last 1,500 hours. LED Lights are shock and vibration resistant. LED lighting has a constant glow and does not flicker like the other types of lights. The LED Light uses solid state lighting "SSL". The LED Bulb, LED Lamp, and other LED Lights are self ballasted using LED energy saving green technology which is environmentally friendly and energy efficient. The LED lights don't put out harmful UV rays for the environment. The EPA encourages the use of LED lighting. The LED lights emit the intended color without using a filter to do so. Please do not use florescence light bulbs. They contain mercury which is dangerous and unhealthy for the environment. The fluorescence starter circuit can blow up by using a dimmer switch with a fluorescence light. LED Lighting is also lead-free. LED Lighting has no filament that can break resulting the purchase of a new light bulb. The LED Light can be used with a dimmer switch which may cause them to glow or flicker when off because of how energy efficient the LED Lights are. The LED Light Bulb is available in multiple colors for LED decor lighting effects. LED Lights are solid state control unlike fluorescent bulbs which have the metal on the inside that flickers. The LED lighting colors are White, Warm White, Cool White, Red, Green, Blue, Yellow, Amber, Violet and Ultraviolet (Black light) and gradual color changing RGB (Red, Green, Blue) LEDs or color changing. The LED light different colors are also just as energy efficient as the standard white colors. LED lighting give out vivid, pure, and bright light spectrum. The LED white lights work easier on your eyes and are closer to the color of daylight. The RGB is also energy efficient and has all the lights in the light bulb. The LED Light bulb can be used indoors or outdoors such as LED landscape lighting, LED driveway lighting, LED sidewalk lighting and LED garden lighting. Outdoor LED bulbs and LED Lamps include 7 Watt LED bulb, or the 3 Watt LED bulb, LED Globe, LED Candle, LED Flame tip, LED bulbs and LED Lamps. LED Lights can be used with dimmer switches and photo cells. LED lights are able to direct their light unlike the other lights. LED lights turn on in microseconds and are even faster in communications. LED lights save money in other ways as well since they don't take much energy they help with the air conditioner power and other energy using products. LED lights don't interfere with radio waves either. The LED lights are milli-amps (mA) compared to amps used by other lights in terms of current drawn. LED Lights are cool to the touch, unlike hot halogen light bulbs. LED lights withstand constant switching and varying weather change. The LED Light is so energy efficient that it will show the dimmer switch actually loses power when off, i.e. the LED Lights will glow with the dimmer switch off. LED lights are also waterproof and can handle other weather such as cold and heat. LEDs don't generate any RF wavelengths that cause radio interference, or UV (ultraviolet light), unless specified as a UV diode, or IR (infrared), which in turn doesn't attract any insects or bugs. The LED lighting saves money on the cost of bulb replacement and labor costs for replacement. After one year these LED light bulbs pay for themselves.
LED Light Product Information: The LED Light comes in many different packages A60, G11, R25 flood, such as LED Floodlights PAR 20, PAR 30, PAR 38 series. The PAR20, PAR30, PAR38, 3 Watt standard appliance light bulb, Globe, Candle have a cool white option use Cree LEDs. Please see light bulb chart below for package type. Most of the LED Light Bulbs are Underwriters Laboratories UL, C-U.L. and CE listed. www.UL.com The Kelvin rating of a LED Light is how the color looks such as a Dark Blue Sky, or Light Blue Sky. The Cool white LED is a more bluish white color similar to a fluorescent light, and the warm white has a similar glow to an incandescent light bulb. Please see the chart on the LED Light information page to understand Kelvin color rating. The warm white color is a similar glow to an incandescent light bulb. The cool white is similar to a fluorescence light color. The white is in between warm white and cool white. The LED lighting colors are White, Warm White, Cool White, Red, Green, Blue, Yellow, Amber, Violet and Ultraviolet (Black light) and gradual color changing RGB (Red, Green, Blue) LEDs or color changing. The LED has multiple voltage configurations 120VAC, 220VAC some LED Lights can operate both 120VAC and 220VAC. AC LED Light bulbs require less maintenance, which reduces labor costs. The LED Light Bulb comes in many different screw base configurations. These LED light bulb bases range from the Edison standard medium base E26 and E27 (This is the most common). The smaller E12 candelabra base (Used for decorative lighting in hallways and bathrooms). The GU10 base is used in track lighting. You can also use the PAR20 and PAR30 for recessed can fixtures. The LED Lighting also looks better. The LED light emits further and look better than the other lights as well covering more landscape. Other LED Light Bulb base sizes and voltages available by request. LED Lights won't glow or flicker in a series i.e. two or more LED Lights in
Categories
Contact Us
Contact: Shenzhen Laimitech Opto-electronics .,Ltd
Phone:
Tel: 0755-23229394
Whatsapp:
E-mail: sales@lamiled.com
Add: #5 floor , Building C, Fu Tai Industrial Aera, Liaokeng Village, Shiyan Town,Shenzhen City 518100